In the last few days winter has indeed made a statement and reminded us we still have some cold weeks ahead, which is why we have the perfect remedy for these endless freezing days, Fazendeiros: Locro Argentino.
This is a heart-warming recipe traditionally enjoyed in Argentina but also seen in many places across South America. It has been put together with expertise by our Executive Chef Fran Martínez so you can all give it a go at home.
Locro Argentino is here to warm us up...
The first thing you need to bear in mind is that Locro Argentino was not born as an everyday meal, although it is surprisingly easy to make! Turned into the national dish after the Argentinian Revolution, this dish is a symbol of Argentina's culture prominence, and it is therefore often linked to celebrations.
Although probably every home has its own version of Locro, this hearty concoction keeps some common ingredients that are always present throughout the country such as corn, white beans, and squash. Some families may choose to go with pork while others prefer beef, and others will simply use both, like in the recipe we're sharing with you here.
The great thing about this dish is you can play with it to make it your own. A great example of this is Fran's vegan version of Locro, which will soon be added to our Non-Meat Menu for our guests to enjoy.
Recipe
INGREDIENTS (SERVES 4)
250g Beef (stewing cubes)
125g Pork sausage
125g Chorizo
600g Butter/Cannellini beans (cooked)
800ml Beef stock, chicken or vegetable
50g White onion
50g Mixed peppers
50g Sun-dried tomatoes
125g Baby corn
125g Corn on the cob
50g Spring onion
125g Butternut squash

2tbsp Olive oil
1tbsp Salt
1tbsp Paprika
½ tbsp Cumin
½ tbsp Turmeric
½ tbsp Black pepper
2tbsp Tabasco or any hot sauce.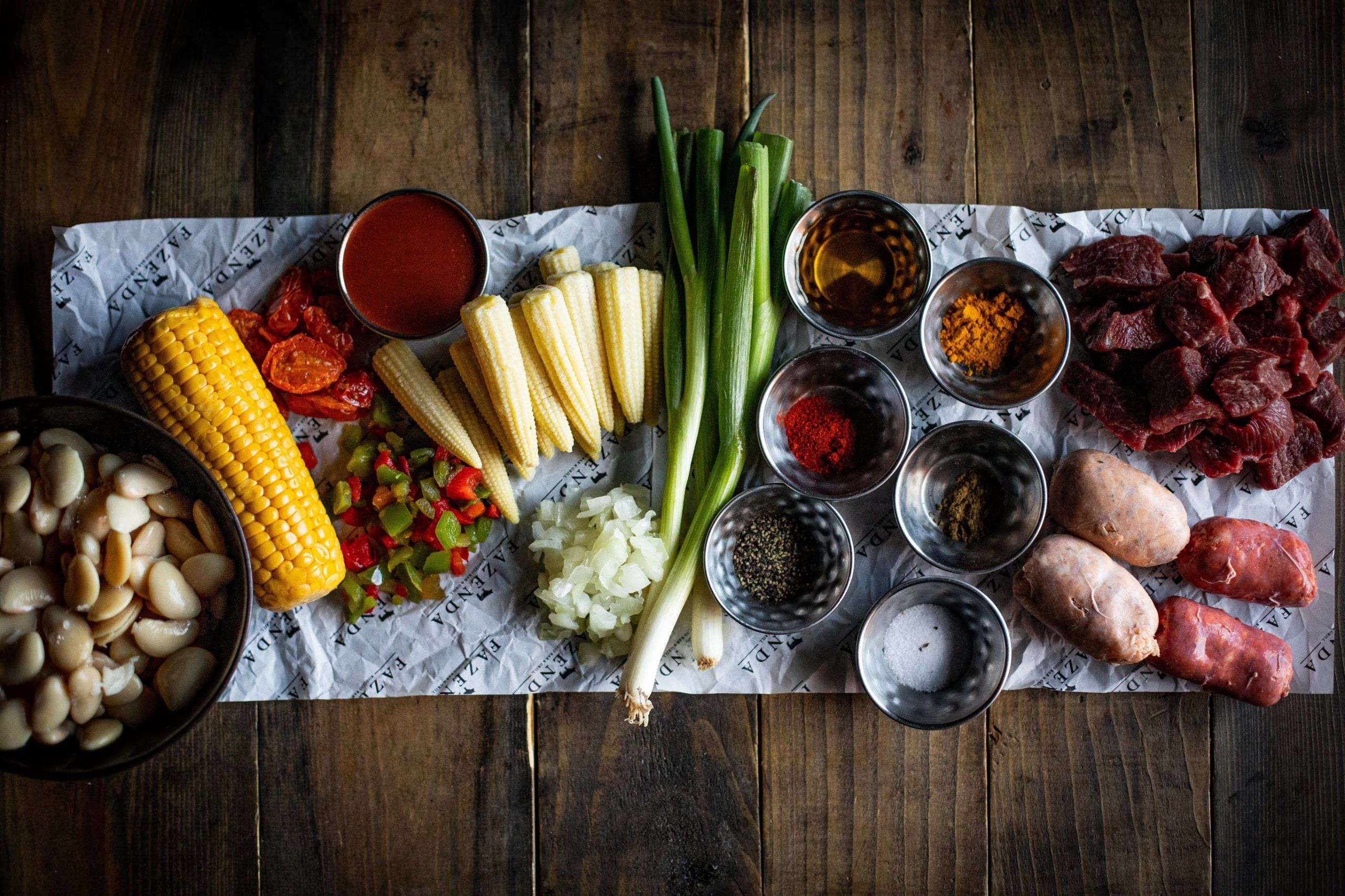 Method
To make this gorgeous dish, the first thing to consider is time. Good things can't be rushed, and Locro being a stew, it requires time to cook slowly to bring all the flavours together. The bright side is, you can always cook it in advance and reheat it just before guests arrive.
We will start adding the oil to a medium heat pan. Then, we need to add the onion, peppers, and tomatoes and let them brown for about 2 to 3 minutes. It is now when we add all our spices and all the meat for quick initial searing.
Mix everything and let the meats caramelise until you achieve that sticky bottom in the pan. At this point, add the beans, baby corn, corn on the cob and squash and mix everything carefully.
Add the stock into the pan, which should be quite hot by now making everything boil quite quickly. Remember to make sure you remove all the caramelisation from the bottom of the pan, as that will bring a big punch of flavour into the stew.
Bring down the heat and leave to simmer for about an hour, stirring occasionally. You will notice that the stew will start to thicken, combining all the flavours together, while the slow cooking process makes the beef tender and tasty.
Step-by-step by Fran in the video below
Presentation
To present this delicious dish, Fran personally likes to bring the pan to the table and finish it there adding the hot sauce and sliced spring onions. Spicy foods aren't for everyone, so it is also an option to leave the sauce on the side for the more adventurous ones to help themselves.
Will you be trying this recipe at home, Fazendeiros? If you do, share your Locros with us and your thoughts in the comments section below, or via our social media channels Instagram, Twitter and Facebook.